Germany has long been a major player in the automotive industry, and its expertise in luxury cars is second to none. German automakers have earned an international reputation for cutting-edge engineering, innovative design, superior build quality and outstanding performance. 
In this article, we'll explore the top 5 German luxury car brands, each with its own history, unique design philosophy and impressive range of high-end models. From luxurious sedans to fast sports cars and spacious SUVs, each German luxury car brand deploys a unique identity and inspires millions of enthusiasts around the world. Let's go!
#1 Mercedes-Benz: "The Best or Nothing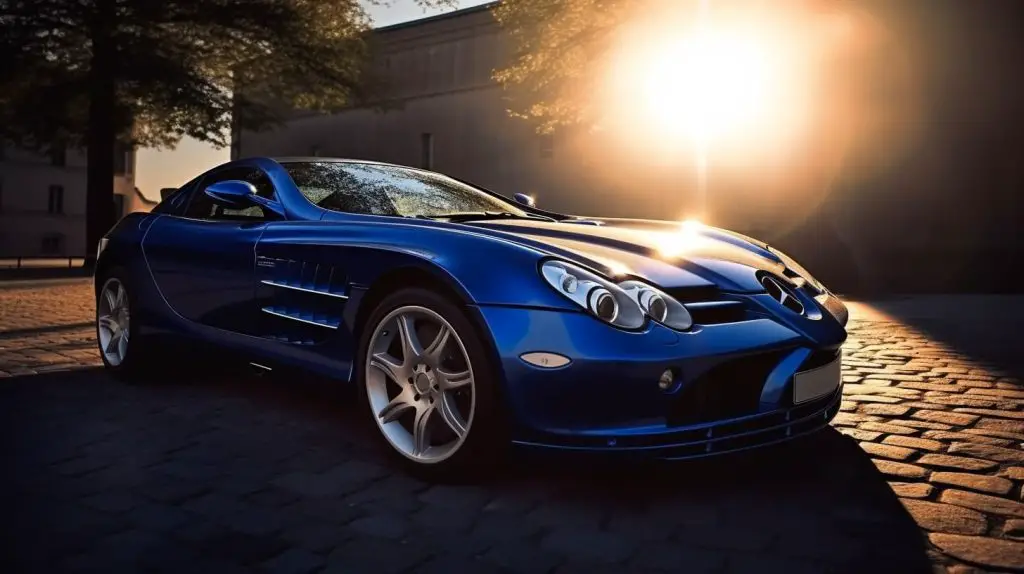 History of Mercedes-Benz
Mercedes is a German automotive brand founded in 1883 by Karl Benz and Gottlieb Daimler. The iconic brand started out as a manufacturer of engines for industry, before launching its first car in 1901. Despite the difficult times that marked its beginnings, Mercedes went on to become one of the best-known and most respected brands in the automotive industry. It was also at the forefront of innovation, introducing air suspension, disc brakes and the diesel car into production in series.
Today, Mercedes produces top-quality cars with elegant design, advanced technology and impressive performance. Its range of cars includes sedans, sports cars, SUVs and convertibles to meet the needs of the most demanding customers.
Mercedes-Benz value proposition
Mercedes' value proposition is based on a number of elements that are instantly recognizable to motoring enthusiasts. 
First and foremost, the brand is synonymous with luxury, refinement and prestige, attracting more affluent consumers looking for top-of-the-range cars. Mercedes also offers a comfortable and enjoyable driving experience, thanks to the quality of its engines, multimedia technologies and finishes. 
The brand also stands out for its ability to produce reliable, high-performance models, notably with BlueEfficiency technology for optimized fuel consumption. Last but not least, Mercedes offers a varied range of models, adapted to different budgets, to meet the needs and preferences of different consumers.
Emblematic Mercedes-Benz models
Historically, Mercedes is one of the most prolific manufacturers in the luxury vehicle segment. Its flagship models are : 
Class E The Mercedes E-Class is a mid-size sedan that is often considered one of the most comfortable and luxurious cars in its class;
S-Class the brand's most prestigious luxury sedan. It offers incomparable levels of comfort and refinement;
G-Class It's a top-of-the-range off-road 4×4;
AMG GT The Mercedes AMG GT is a top-of-the-range sports car offering impressive performance and aggressive design;
Class A The Mercedes A-Class is a small, premium sedan that offers great handling and excellent fuel economy;
GLC The GLC is Mercedes' compact SUV with excellent handling and a spacious, comfortable interior;
CLS The CLS is a four-door luxury sedan with a bold design and plenty of power;
SL The SL is a top-of-the-range convertible that offers a sporty and luxurious driving experience;
GLE This top-of-the-range SUV offers an excellent compromise between performance and comfort.
Mercedes-Benz car prices
Prices are indicative and depend on a number of factors, such as model, configuration, year of manufacture, options, etc.
| | |
| --- | --- |
| BMW model | Price guide |
| Class C | From €42,150 |
| Class E | From €54,250 |
| S-Class | From €97,700 |
| G-Class | From €101,600 |
| AMG GT | From €146,500 |
| CLS | From €80,700 |
| SL | From €98,200 |
#2 BMW: "The Ultimate Driving Machine
History of BMW
BMW was founded in Germany in 1916 as an aircraft engine manufacturer. After the First World War, the company began producing motorcycles and cars, and became famous for its innovative design and outstanding performance.
After the Second World War, BMW concentrated exclusively on car production, benefiting from a buoyant market. In the 1960s, BMW acquired the British Rover brand and began producing high-end luxury cars.
In the 1980s and 1990s, BMW continued to develop as a luxury car manufacturer, introducing new models that would become legendary, such as the 3 Series, 5 Series and 7 Series. In the early 2000s, BMW also began developing electric and hybrid cars to adapt to the market.
Today, BMW is a world-renowned brand, known for its luxury cars, innovative design and cutting-edge technology, with a positioning close to that of Mercedes. The brand is also committed to the development of environmentally-friendly technologies.
BMW's value proposition
BMW's values are quality, innovation, performance and design. BMW distinguishes itself from other brands through its commitment to the driving experience, offering a combination of luxury and sportiness that sets its cars apart from the competition. BMW is also renowned for its reliability and top-flight customer service, winning several awards in the process. 
The brand is also committed to the development of environmentally-friendly technologies, with massive investments in the production of electric and hybrid cars.
BMW: iconic models
BMW's most popular models include :
BMW 3 Series This compact sedan is one of BMW's best-selling models. It offers a sporty driving experience, high manufacturing quality and innovative technology. The 3 Series is available in sedan, station wagon and coupé versions;
BMW 5 Series This mid-size sedan is renowned for its elegant styling, exceptional comfort and outstanding performance. It is also equipped with many advanced safety features;
BMW 7 Series This large, top-of-the-range sedan offers an exceptional level of luxury and sophistication. It features advanced technology, comfortable seats and generous passenger space;
BMW X3 This compact SUV is one of BMW's most popular models. It offers agile handling, good visibility and great versatility thanks to its ability to adapt to different types of terrain;
BMW X5 This large luxury SUV offers a comfortable and safe driving experience thanks to its impressive handling and advanced technology. It also offers ample space for passengers and luggage;
BMW i3 This electric vehicle is one of BMW's most technologically advanced models. It offers a quiet ride, rapid acceleration (for an electric vehicle) and a respectable range. The i3 is also equipped with a wide range of comfort and safety features.
Guide price for a BMW
Here again, prices are indicative and may vary according to the above criteria.
| | |
| --- | --- |
| BMW model | Price guide |
| BMW 3 Series | From €40,550 |
| BMW 5 Series | From €53,400 |
| BMW 5 Series | From €53,400 |
| BMW 7 Series | From €92,450 |
| BMW X1 | From €34,850 |
| BMW X3 | From €46,200 |
| BMW X5 | From €68,950 |
| BMW i3 | From €39,950 |
#3 Audi : "Advance through Technology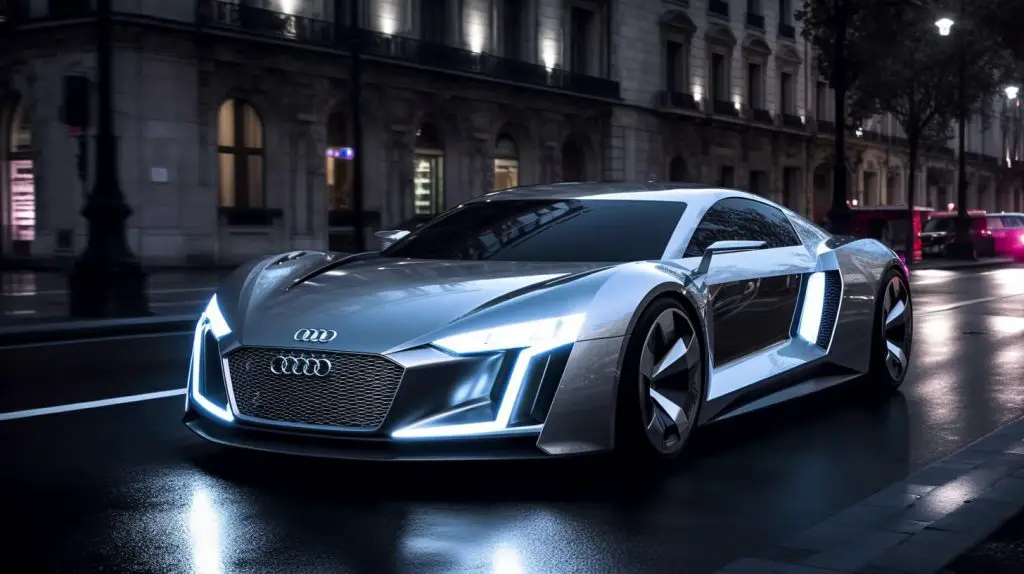 History of Audi cars
In 1909, German engineer August Horch set up a car company bearing his own name in Zwickau, Germany. However, in 1910, he was forced to leave his structure due to an intellectual property dispute. He then founded a new company under the name Audi, which means "listening" in Latin. Over the years, Audi has built a reputation for the quality of its luxury cars, including the introduction of Quattro all-wheel drive in 1980. 
In the 1990s, Audi became a subsidiary of Volkswagen, continuing to produce premium cars while expanding its model range to include sports cars, SUVs and electric vehicles. Today, Audi is a global automotive brand renowned for the quality, advanced engineering and elegant design of its cars.
Audi's value proposition
The Audi brand stands out from other automotive brands for its values of quality, innovation, advanced engineering and elegant design. The brand has forged a solid reputation for the quality of its luxury cars, thanks to innovations such as Quattro all-wheel drive, introduced in 1980 and now an emblematic feature of the brand. 
Audi has also established itself as an innovative brand with advanced technologies such as LED headlights, digital displays and autonomous driving systems.
Audi flagship models
Audi offers a plethora of luxury models. Here are some of the most emblematic: 
Audi A3 a high-end compact with a luxurious interior and advanced technologies;
Audi A4 A mid-size sedan, one of Audi's bestsellers, offering a combination of performance and luxury;
Audi A6 An imposing sedan with a high-end interior finish and powerful engine options;
Audi Q3 A compact SUV offering a good balance between performance, manoeuvrability and interior space;
Audi Q5 A mid-size SUV offering a comfortable driving experience, excellent handling and luxury features;
Audi Q7 A top-of-the-range SUV with an abundance of interior space, excellent drivability and a range of advanced features;
Audi TT a compact sports coupé offering high performance and a sleek, elegant design;
Audi R8 a high-end sports coupé with a powerful V10 engine and eye-catching looks.
Approximate price for an Audi
To buy an Audi, you need to count at least €28,150 for the A3 model, and up to €180,000 for the Audi TT with all options. Prices are indicative only: 
| | |
| --- | --- |
| Audi model | Price guide |
| A3 | From €28,150 |
| A4 | From €36,000 |
| A5 | From €43,000 |
| A6 | From €47,750 |
| Q5 | From €45,850 |
| Q7 | From €72,500 |
| TT | From €45,750 |
| R8 | From €171,500 |
#4 Porsche: "Irreplaceable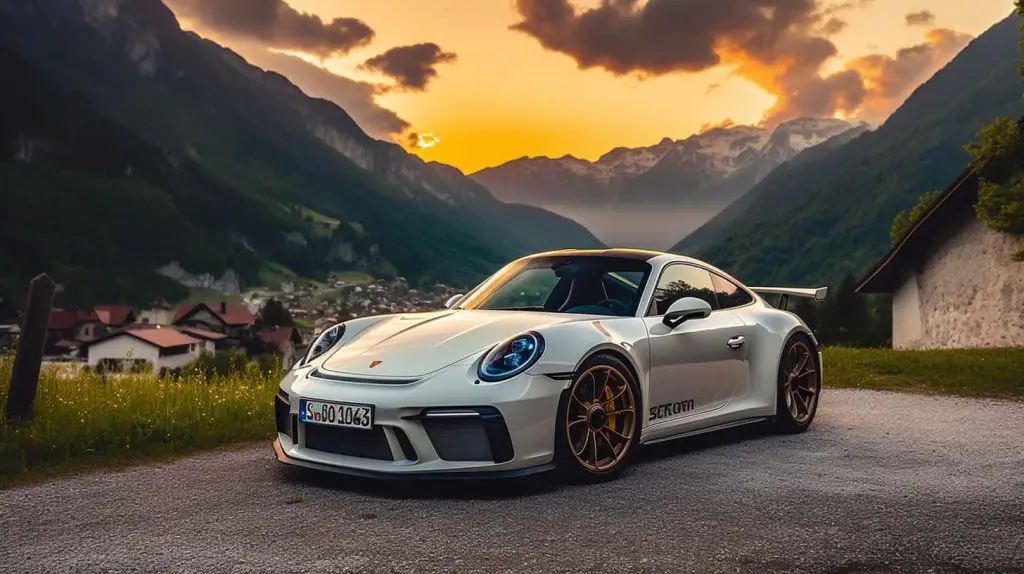 History of Porsche
In 1931, Ferdinand Porsche founded Porsche Konstruktionen, an automotive engineering design and consulting company. His first major project was the design of the Volkswagen Beetle in 1934. 
In 1948, Porsche introduced its first car under its own brand, the Porsche 356, which helped establish Porsche's reputation as a manufacturer of high-end sports cars. The brand continued to develop over the decades, introducing iconic models such as the Porsche 911 and winning victories in renowned motor racing competitions. 
Technologies developed for racing were often incorporated into production models. Today, Porsche continues to reign in the automotive industry with a range of models that includes classic sports cars like the 911, SUVs and top-of-the-range electric cars, while being synonymous with sporting performance, innovation, exceptional build quality and above all prestige.
Porsche's value proposition
Porsche stands out from other German luxury car brands for several reasons:
History and heritage Porsche has a long history of sports cars, dating back to the creation of the famous Volkswagen Beetle in the 1930s. This heritage is a key factor in its distinction;
Technical innovation Porsche is known for being at the forefront of technical innovation in the automotive industry. The brand was a pioneer in the development of technologies such as ceramic brakes and turbocharged engines;
Iconic design Porsche: Porsche models are easily recognizable thanks to their iconic design, which has evolved over the years to adapt to the latest trends and technologies while remaining true to the brand's heritage;
Exceptional sports performance Porsche: Porsche models are designed to offer outstanding sporting performance, a key feature of the brand since its inception. Porsche sports cars have won numerous victories in prestigious automobile competitions such as the 24 Hours of Le Mans.
Emblematic Porsche models
Porsche boasts a good half-dozen iconic models: 
Porsche 911 The 911: Porsche's most emblematic model, the 911 is a legendary sports car that first saw the light of day in 1963. It is available in a variety of variants and has been continuously improved over the years without losing its character;
Porsche Cayenne Porsche's first SUV was launched in 2002. It combines Porsche performance with SUV practicality;
Porsche Boxster The Boxster is a convertible sports car launched in 1996. The vehicle is designed for fun and sporty driving, and is available in various versions;
Porsche Panamera This luxury sedan was launched in 2009. It is available in various versions, including hybrids and turbochargers;
Porsche Carrera GT The Carrera GT is an ultra-sporty model produced from 2004 to 2007. It is powered by a 5.7-liter V10 engine that produces over 600 horsepower;
Porsche 918 Spyder The 918 Spyder is a hybrid sports car produced from 2013 to 2015. It is equipped with a 4.6-liter V8 engine and an electric propulsion system that produces a combined output of over 880 horsepower ;
Porsche 550 Spyder The 550 Spyder is a legendary sports car produced from 1953 to 1956. It became famous for its participation in races and for being driven by James Dean.
Approximate price of a Porsche
Porsche cars start at €70,000 for the Boxster model. Here are the approximate prices.
| | |
| --- | --- |
| Porsche model | Price guide |
| Porsche 911 | 100 000 € à 300 000 € |
| Porsche Cayenne | 70 000 € à 250 000 € |
| Porsche Boxster | 60 000 € à 100 000 € |
| Porsche Panamera | 90 000 € à 250 000 € |
| Porsche Carrera GT | More than €700,000 |
| Porsche 918 Spyder | Over 1.2 million euros |
| Porsche 550 Spyder | Over 2 million euros |
#5 Maybach: "Exquisite luxury, exquisite service".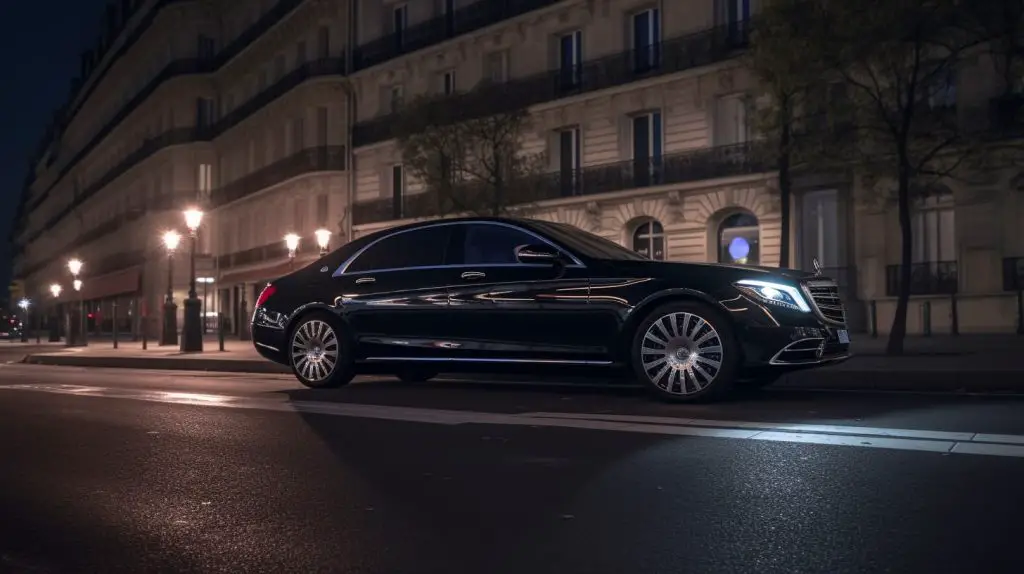 History of Maybach
Wilhelm Maybach, a German engineer renowned for his genius in aircraft engine design, created the Maybach brand in 1909. Initially specializing in the production of engines for the aircraft industry, Maybach soon diversified to include engines for airships and ships. 
In the 1920s, the company began producing luxury cars, introducing its first car in 1921. Maybach became a symbol of prestige and refinement, and the brand enjoyed great success with celebrities, particularly in the world of cinema. 
During the 1930s, the brand produced ever larger and more luxurious cars. However, the Second World War interrupted Maybach's car production, and the company concentrated on the production of aircraft engines. After the war, Maybach resumed car production, but finally ceased in 1949 due to falling demand. 
The brand was acquired by Daimler AG in 1960 and relaunched in 2002 as a brand of customized ultra-premium cars aimed at a very wealthy clientele. Production of the brand was discontinued in 2012, but some of its design and technology elements were integrated into Mercedes-Benz's top-of-the-range models.
Maybach's value proposition
Maybach has a proud history dating back to its foundation in 1909. The brand made a name for itself in the automotive industry by producing high-end luxury cars as early as the 1920s, with a classic, timeless aesthetic.
Maybach also stands out for its build quality, with an emphasis on high-quality materials and great attention to detail. The brand's engineers and designers strive to create cars that offer a luxurious, comfortable driving experience, while incorporating cutting-edge technologies.
Last but not least, Maybach is known for producing exclusive, customized models for a very affluent clientele, with prices often well above those of other luxury brands. The brand has forged a reputation for exclusivity and prestige, attracting the most demanding (and wealthy) collectors and luxury car enthusiasts.
Maybach's flagship models
Some Maybach models are among the most expensive collector's vehicles on the planet: 
Maybach 57 and 62 These were the first cars produced by Maybach after its relaunch in 2002. The 57 is 5.7 meters long, while the 62 is 6.2 meters. Both models feature spacious, comfortable interiors and powerful V12 engines;
Maybach Exelero This unique model was created in 2005 for a special order. It has a distinctive appearance with its black and silver bodywork and futuristic design. It is powered by a 700 hp twin-turbo V12 engine and is capable of reaching a top speed of 351 km/h ;
Maybach Landaulet This model was introduced in 2008 and is distinguished by its canvas sunroof, which allows rear passengers to enjoy the fresh air while benefiting from the comfort of the car's interior. It is also equipped with a 6-liter twin-turbo V12 engine producing 620 horsepower;
Maybach Zeppelin This model was produced in a limited edition of 100 in 2009 to celebrate the 75th anniversary of the company's founding.e anniversary of the brand. It features a luxurious leather interior with precious wood accents and advanced technological equipment such as LCD screens and a rear entertainment system.
Guide price for a Maybach car
Expect to pay at least €360,000 for a luxury car from the German Maybach brand.
| | |
| --- | --- |
| Maybach model | Price guide |
| Maybach 57 | 360 000 € |
| Maybach 62 | 410 000 € |
| Maybach Zeppelin DS7 | 500 000 € |
| Maybach Landaulet | 1 200 000 € |
| Maybach Exelero | 8 000 000 € |
How much does a German luxury car cost?
The price of a German luxury car varies considerably according to make and model. The most prestigious brands, such as Porsche and Maybach, offer ultra-premium customized cars at very high prices, ranging from several hundred thousand euros to several million euros. In contrast, brands such as Audi, BMW and Mercedes-Benz offer a wider range of luxury cars at (slightly) more affordable prices, ranging from 40,000 to 200,000 euros.
The following table summarizes the price ranges of the most popular German luxury car brands, from most expensive to least expensive:
| | |
| --- | --- |
| Brand | Price range |
| Maybach | 150 000 - 1 500 000 € |
| Porsche | 80 000 - 700 000 € |
| Mercedes-Benz | 40 000 - 400 000 € |
| BMW | 40 000 - 250 000 € |
| Audi | 40 000 - 200 000 € |
German luxury car brands: disclaimer
The prices given are indicative and may vary according to a number of factors, such as the options chosen, the model's year of manufacture, the model, etc. We therefore recommend that you contact the dealers directly for precise information on the prices of the models shown. We therefore recommend that you contact dealers directly for precise pricing information on the models shown.